Finding a mobile home value is not easy.  Yes, mobile homes are more affordable than stick built homes but trying to put a price tag on your home might not be easy.  This really is due to the lack of information and price data that is available in the current market.  However, there are tips and tricks to pricing your mobile home just right and, in this article, we will discuss all those options. 
                                                      Age of the Home
The biggest factor that will affect the value of your mobile home is the age.  The age of your mobile home will affect the price of the mobile home greatly. Mobile homes are considered vehicles in all states, and they do depreciate. 
If you look back over the years mobile homes have really gotten a bad rap.  Maybe its because they started out similar to the r.v or recreational vehicle industry.  It wasn't until the mid-40's – 50's that mobile homes broke off and started to develop into their own niche.
In the 1970s mobile homes were built very cheap.  Stick built homes were affordable but mobile homes were considered low-income housing.  The walls in mobile homes were built with 2 x 4 construction and some of the cheapest products available.  During this time the term trailer trash was rampant. 
Over the years the industry grew, and materials were improved for these homes.  Walls were made thicker, construction was available from 2 x 4 to 2 x 6 walls, and the industry blossomed.  Bathrooms and kitchens were made bigger with more amenities and it became obvious that this industry had made leaps and bounds in the right direction. 
Now mobile homes are built very similar to stick-built homes.  The only difference is they are built inside a factory.  They are then rolled out into the world on a metal frame and placed on land or in a mobile home park. 
                                       What Type of Property Do You Have?
                                                        Mobile Home Park
One of the first things that will affect your mobile home value is where the home currently sits.  Is your mobile home located in a mobile home park?  If it is in a park setting, do you have a nice lot, or does it sit close to some nice amenities? 
Some mobile homes sit on lakes or rivers inside mobile home parks.  If you have a waterfront lot this can make your mobile home worth even more. 
The location will play a role in what your mobile home value is.  So be sure to note all this information.
                                                  A Mobile Home on Land
A mobile home on land is going to be worth more than a mobile home in a park setting.  Here you must consider two factors.  Not only do you have to get a value for your mobile home, but you also must figure out how valuable the land is.
A few acres of land are obviously more valuable than a small lot.  Another thing to consider is where the land is located.  Do you have a beautiful country setting or are you located on a busy city lot. 
If you are looking to sell the mobile home and not sell the land it can be very tricky to price the home.  Mobile homes are very expensive to move and there are many things you will need to consider.  Does the home sit on pillars with skirting or underpinning or is the home on a crawl space.  You might even have a mobile home on a basement foundation.  To move a mobile home off from a basement foundation costs much more than simply moving it off from a crawl space.
Another thing to consider is are their trees on your lot that have grown up that need to be moved before the home can be moved. If yes, who is going to do that.  Cutting large trees down is expensive.
You will need to have a clear area to be able to move the mobile home off from the land and any obstructions is only going to add to the cost of moving the home from the land. 
Another thing to consider are the utilities.  Utilities such as power, air conditioning units and water supplies need to be disconnected from the home.  This all adds up and can end up making the home less valuable.   
                                   Mobile Home Resale Value
A mobile home is much like a car or truck that you drive every day.  Once you drive a new one off the lot it the value goes down.  The same is true with mobile homes.  If you purchase a new mobile home you are going to experience a drop if value over the first few years of owning it.  Mortgage balances do not go down much in the first couple years because you are mainly paying on the interest of the mobile home loan. 
If you are looking to sell your mobile home within the first few years consider putting a large down payment on the home or purchasing a used mobile home.  In the end you will come out better than purchasing a new mobile home. 
                                      Trailer Home Prices
                                          Mobile Home with Garage
Mobile homes with garages add great value to your home.  A garage can give you additional living space and a great place to park your vehicle.  Whether you have an attached garage or a garage that sits near the mobile home this helps to add value. 
A garage should be figured by its square feet and figured separate from the mobile home value. 
If you are looking to move your mobile home and it is attached to a garage there are ways to detach the two.  It can be a tricky process, but I have seen it done several times.  Just be sure that you hire a professional to do the job and they are licensed and insured.  When it comes to cutting roofs apart and detaching these homes you will want to make sure you are doing it right.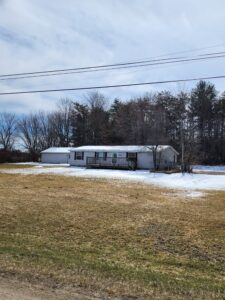 Mobile Home with Additions
Adding an addition to your mobile home is a popular way to add value and square footage to your living space.  An addition whether it be a living room, bedroom or family room can easily be added to most single and doublewide homes.  There are obvious advantages to adding additions to your mobile home unless you plan to move your home. 
Moving a mobile home with an addition is not an easy task.  The addition has to be removed from the mobile home before the home can be moved.  Some additions join into the roof line while others just hook to the side of the home.  Either way an addition would have to be removed before the home could be moved.
When figuring out the value of your mobile home be sure to include any additions separately.  An addition would have to be figured by square foot value rather than part of the home. 
Again, if you have an addition on your home and it needs to be moved this is going to cause issues that will need to be addressed. 
                                         Appearance is Everything
When it comes to the value of your mobile home appearance is everything.  From curb appeal to inside appeal you will want to make sure you have everything in tip top shape. 
Mildew on your siding or dirty siding can make your home look bad.  Whether it is a stick built home or a mobile home this is going to hurt the look of your home.  A quick power washing can get your home back in shape. 
If you have holes in your walls inside your home, then patch them up.  The same goes from trim that might be missing or water stains on your ceilings.  Do a walk through of your home and clean up the issues. 
                                             Mobile Home Landscaping
A well landscaped yard can make your mobile home look amazing.  It is said that landscaping a yard can add nearly 10% value to your mobile home.  A nicely landscaped yard can give your home amazing curb appeal.  Landscaped yards also keep your yard looking fresh and clean.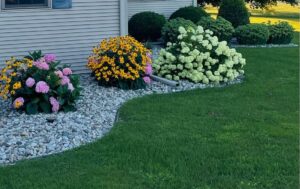 If you are looking to move your mobile home however, a landscaped yard will have no effect on the value of your mobile home.  In fact, the landscaping could get in your way making the home more difficult to move. 
If you are looking to sell your mobile home soon or move the home don't go overboard with your landscaping.
                                            Mobile Home Upgrades
A mobile home upgrade is just like an upgrade in a regular stick built home.  You can literally do all types of upgrades to these homes to make them nicer.  Designer kitchen, new flooring, fireplaces you name it the sky is the limit.  Any upgrades that you have made, or you are looking to do to the home just make sure you keep the receipts.  If you ever go to sell your mobile home, you will want to make note of it.
Upgrades to any home add value and many times you will get 30 % to 50 % of the remodeling cost back when you try to sell the home. 
                                                Mobile Home Roof
When it comes to curb appeal a mobile home roof speaks volumes.  Does your mobile home roof have shingles that are curling up?  Are there some shingles that are missing?  Do you have big streaks across your roof?  All these issues can make your mobile home look less desirable. 
Just drive by a mobile home with a new dimensional roof or a new metal roof and you will see how nice they look.  It really helps to add to the look of the home when the roof is new. 
                                                         Appliances in the Home
Appliances can add value to your mobile home.  It really depends on the quality and age of the appliances.  Are they stainless steel or just run of the mill appliances from your local appliance store?  Your appliances may have come with the home when you purchased it making them dated.  That is if you have owned the home for a few years. 
If you are considering leaving your appliances, make sure to highlight any qualities that they have.  You will want to be specific about the age and original cost if possible. Buyers often will look for homes that are move-in ready.  The less that they have to do the better.  This makes your home more turnkey and valuable.    
                                              Mobile Home Furniture
Furniture doesn't typically add a lot of value to a mobile home. Yes it is something that you can leave behind a negotiate into the sale of the mobile home.  However many people don't want your couch, table or chairs.  They typically have their own
                                   Used Single Wide Mobile Home Prices
A singlewide mobile home was once referred to a trailer home.  A singlewide provides you with spacious area and everything you would need to live comfortably.  Singlewide mobile homes do tend to depreciate once you purchase them but as long as you keep up on the maintenance of the home they can hold some value. 
Singlewides offer some of the most affordable living in the United States.  These homes are beautiful on the inside.  Most singlewides offer 3 bedrooms and 2 baths with a large kitchen and living room area. 
Depending on the number of bedrooms that your singlewide has it will affect the value of the home as well.  3+ bedrooms tends to be worth the most valuable singlewide as most couples are married and have 2 kids.  This need for a 3+ bedroom home is really what makes these little units desirable. 
                      Used Double Wide Mobile Home Prices
Doublewide mobile homes are going to be worth more than singlewide mobile homes because they offer double the space.  Most doublewides are 1500 square foot or bigger.  If you need help figuring out the square foot of your mobile home visit our article How to Measure a Mobile Home. 
Doublewides can cost more money to maintain and they will need twice the attention that a singlewide home will need.  However, this makes them much more valuable.
A doublewide on private land that is placed on a foundation can be made to easily look like a regular stick built home.  Especially if it has an attached garage and a front porch added to it. 
There are many improvements that you can do to the appearance of a doublewide to make it look more modern. 
A doublewide mobile home can also be put on a full basement giving you doublewide the living space above and below the ground.  A mobile home that sits on a foundation with a finished basement can be amazing for a large family. 
                       Used Triple Wide Mobile Home Prices
The Mac Daddy of all mobile homes would have to be the Triple wide.  These homes are one of the biggest units available.  A triplewide just like it states offers triple the living space.  You will see many triplewides in the California area.  These spacious homes are the luxury vehicle when it comes to mobile homes. 
Just like a single or doublewide mobile home these homes are figured on their square feet, location, and the quality of the home. 
                               Price of Manufactured Homes
A major factor that effects the value of a mobile home is similar to a stick built is the kitchen and bathroom area.  These tend to be the most valuable rooms in any home.  If your mobile home has cheap veneer cabinets that have a paper like material covering them then they aren't as valuable as a heavy oak cupboard. 
The same is true of the countertops in the mobile home. If you have the original countertops that came with your home, they might not be as valuable as if you replaced them with a Corian countertop of a granite countertop.  Again any upgrades that you do to your mobile home will add value.  Just be sure you don't go to overboard with improvements as you might just be throwing good money at a bad investment if you ever want to sell the unit. 
                                Mobile Home Value Estimator
Mobilehomesell.com provides a full color home value report.  Not only do you get the retail value of your mobile home from this site you will also get a wholesale bonus for free. 
These reports are very affordable, and they last for a lifetime.  That is right as the market changes so does your report in real time.  This is live data available at your fingertips. 
                        Blue Book Manufactured Home
Having this report will give you support when you are asking a certain number for your mobile home.  You need something to justify it and why not use immediate market information.  Don't use some outdated information.  This report is current, and it is easy to understand. 
                            Market Value Report vs. Appraisal
The benefits of a value report is that the information is affordable and you do not have to wait days to get it.  You can simply enter your homes information and location and have a report generated within a few minutes.
An appraisal for your mobile home is where someone actually comes through your home and documents everything. Appraisals can cost anywhere from $200 – $500 depending on the area in which you live.  Appraisals are nice as they will give you a layout of your home, show the square footage, and highlight the condition of your home. 
A market value report or appraisal is going to be a benefit to helping you decide how much to sell your home.  Just be cautious on what you start your asking price at.  There are many things as a seller you must take into consideration. 
If you are asking full market value for the home it may take time to sell.  Do you have the time to sell the home.  Realize that if your home is in a park, park approvals can take a few weeks to approve.  Each time someone is denied that process will start over. 
If you need to relocate quickly because of a job, divorce or a family issue selling a full market may not be the best option for you to consider.
                                        Pre 1975 Mobile Homes
Do you have an antique mobile home.  Antique or vintage mobile homes are typically anything 1975 and older.  These types of homes can be difficult to sell depending on the location and situation. 
In the Florida area they are very common and sell well within a mobile home park setting.  Many of the homes in this state have been remodeled and fixed up to feature a more modern look.
Many antique enthusiasts search for older mobile homes to restore back to their original state.  Antique mobile homes are amazingly beautiful when restored. 
There are things you will want to look over on a vintage mobile home before you start.
You will want to assess the condition of the home.  Before you start any restoration work you will want to make sure you can move this home to the location you desire.  Vintage mobile homes can have rotted metal underneath them making it difficult to move them.

You will need to create a restoration plan. Make sure to calculate all your materials and your sweat equity that you will put into the home.  Will it be worth it in the end?

Start with the most important items first. Does the home need a new roof?  Are there leaks?  Does the electrical or plumbing system need work?  Fix these types of problems first before they turn into bigger problems for the home.

Does the exterior need work? Focus on this part of the home when you have nice weather and you can enjoy the outdoors.  It's important to get this type of work out of the way while you can.  Interior work can always be done during cold or rainy days. 

Next look at the interior of the home. What improvements can you make to add value to the home and restore it to its original look.

Finally have fun decorating the home. Goodwill, Salvation Army or your nearest Habitat for Humanity may have some vintage items that would be fun to add to the home. 
As a final tip you might try looking on Pinterest for ideas of how to restore a vintage mobile home.  The internet is full of great photos and ideas of how to restore these items. 
                   The Top 5 Things that Depreciate Your Mobile Home Faster
There are some things that will adversely affect the value of your mobile home.  If you find that your home is affected by these, you can always fix it. 
Has your mobile home been smoked in for years? This can be an issue.  Nicotine builds up on walls and stains them.  This can become an issue when you try to sell the home.  Yellow walls and a smoke smell can hurt the value of the home.

Any type of water damage to the home can affect the price.  This is especially the case if you water damage on the ceiling from a leaky roof.  Water in your ceiling can quickly cause a mold issue and this can be very expensive to fix. 

Water can also do damage to the subfloor of your mobile home.  Just one leaky toilet, sink or washing machine and you can end up with spongy floors.  Soft spots in your floor would require the subfloor to be ripped out and replaced.  This can be an expensive repair. 

Have you painted your mobile home walls with loud colors such as bright blues, reds, greens, or yellows? Loud colors can make a room look smaller and not as clean.  Painting a room doesn't cost a lot but bright colors can have an adverse effect on the price of the home.

Do you have large pets in your home? Pets smells throughout the home can have an impact on the value of your home. If your pet has had a few accidents on the floors this can also cause a bad smell to the home. Urine can quickly seep into the subfloor and leave an odor that is hard to treat.  

Are there large or small holes in the walls of your mobile home? Get them fixed.  It really is quite affordable to fix holes in your walls.  There are many videos on YouTube if you are interested in a DIY project.

Broken windows or ripped screens in your mobile home. If you have a broken window or many broken windows they should be fixed.  You can simply pop them out and take them down to your local hardware for repair or glass shop.  Even having ripped or missing screens can make the curb appeal to your home look off.  Replace them it is an easy fix.

Missing shutters are another thing that can make your mobile home look bad. If you have faded shutters, broken shutters or missing shutters get them fixed.  It is easy to paint and replace these items on your home. 
If you find that your mobile home has any of the issues above find a way to fix the problem.  Whether you hire someone to help you fix the issue or you do it yourself.  These are all issues that can adversely affect the value of your mobile home. 
                              Mobile Home Value Calculator
We are use to just plugging in numbers to a calculator and having it do the work for us.  However when it comes to a mobile home there are many factors that affect the price of the home.  From location, condition to age.  It's important to note that these figures would just be an estimate and not a true figure of what your mobile home might be worth.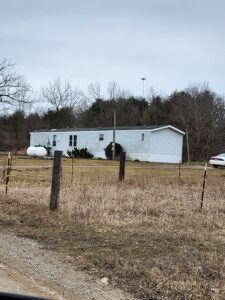 A value report will give you an estimate of your mobile homes worth and will be much more accurate than a mobile home value calculator. 
                                 Average Mobile Home Price
The U.S. Census Bureau reports that the average sale price of a new manufactured home was nearly $110,000 in November 2021.  The average stick built home ranges around an average of $400,000+ at the same time. 
You can quickly see why mobile manufactured homes are becoming the affordable option.  The best part is if you purchase a used mobile home you will be able to do that for half of the new price or lower.  This makes these homes even more affordable. 
                                             Sell Your Mobile Home
The value of your mobile home is important to know if you are looking to sell it.  Figuring out how much time you have to sell your home is really important.  If you need to sell because of job relocation, divorce, loss of job or you are back on property taxes or lot rent you may need to sell quickly.
  Check out our great article on Sell My Mobile Home.  Here we will cover all the reasons why you might need to sell your home and how to do it quickly. 
                                    Energy Efficiency Mobile Homes
There are ways to make your mobile home more energy efficient and some of these upgrades can affect the price of your mobile home.  From upgraded appliances, to new furnaces and air conditioning units to replacing hot water heaters.  If you make any of these types of changes within the last 5 years to your mobile home, you are going to want to make note of it. 
Conclusion
In conclusion mobile homes vary greatly in price.  It really depends on the year of the home, the location, and the quality.  If you are looking to sell your mobile home and you need to do it quickly check out our form here.  However, if you have time to sell and want to get something closer to market value you now know how to price your mobile home.