Selecting the right living space is a lot harder than most people realize. 
If you want to avoid the expense of having a home built but want something new, then investing in a quality mobile home is a good idea. Modern mobile homes feature perks like spacious floor plans, drywall and large garden tubs.
In the United States, over 4 million people live in mobile homes. As the owner of a mobile home, your main concern should be keeping this residential structure in pristine condition. Read below for information on how to properly perform mobile home maintenance it can save you money!
Instead of opting for a rented apartment, living in a manufactured home can provide you with the convenient lifestyle that you desire.
A manufactured home provides you with tons of privacy, lower maintenance costs, and
taxes, and makes it easier for you to experience the pride of owning a home.
While you're enjoying the perks of home ownership, you should also be aware of a few common
problems that you might experience.
                  Mobile Home Maintenance:  Roof
If you want to avoid problems involving water damage, then you need to make sure your mobile home's roof is working properly. Most mobile homes come with asphalt shingle roofs. While this roofing material is appealing and durable, it can get damaged over time. The average mobile home roof will get nearly six hours of direct sunlight exposure every day.
This prolonged exposure to the sun can damage your asphalt shingles. Performing an in-depth inspection of your roof can help you identify problems involving missing or curling shingles. If you don't feel comfortable doing this inspection alone, then hiring an experience roofing contractor is a great idea. A roofing contractor can fix any problems they find on your mobile home's roof in a hurry.
Check out our article on Mobile Home Roof for more information.  
                                             Ceiling Repairs
Have you noticed a sudden leak in the roof of your home? Moisture or water can seep into the
roof of old mobile homes.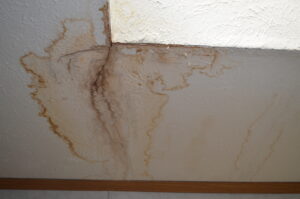 Failing to fix roof leaks could lead to additional damages and expensive repairs. Even a small leak can be detrimental to your mobile home. Water trapped in the roof of your mobile home may cause the formation of mold, mildew, and even wood rot.
If your skylight is leaking be sure to check out our mobile home skylight article for assistance.  
                                         Window Cracks
Windows add beauty, daily light, and comfort to your mobile home. However, your window
materials may not be strong enough to withstand time. Window cracks are fairly common with
old mobile homes and may need to be replaced or repaired at some point.
      Mobile Home Maintenance:  Skirting Ventilation
One of the most important components attached to your mobile home is the skirting. The skirting on a mobile home acts as an insulator for the entire structure. It also provides protection from things like pests. Checking your skirting a few times a year to ensure it is secured tightly to your home is important. Not only is properly secured skirting vital to keeping pests out of your home, it also adds a lot of curb appeal to your residence.
Mobile Home skirting is sometimes referred to as Underpinning.  To keep this save and in place read our article on Underpinning Mobile Home.
While you are under your mobile home you will want to make sure there is no water under your home.  Moisture in this area can cause trouble with your subfloor in your home.  If you want more information on keeping the underneath of your home dry read our article Crawl Space Vapor Barrier.  
If the skirting on your mobile home is damaged, then you need to think about getting it replaced. While new skirting is a bit expensive, it is definitely worth the money. Hiring professionals to install your new skirting is crucial when trying to ensure this job is done correctly.
            Look at Plumbing System Components
Another important thing you need to consider when performing mobile home maintenance is checking out your plumbing system components. These components include things like your water heater, plumbing fixtures and appliances that use water. The older these components get, the higher the chance becomes of them breaking down.
This is why you need to work on staying one step ahead of these repair issues should be a priority. Checking your water heater for rust spots can help you avoid leaks in the future. If you see that there are a few rust spots on your existing water heater, investing in a replacement is essential. With the addition of a new water heater, you can boost efficiency levels and avoid repair issues for a while.
                                        Mobile Home Problems 
You may have to repair holes in the walls of your mobile home. If you have an old home, this is a common issue that can develop over time.
Holes in the interior walls of your home are usually
caused by a number of factors. Some of these may include termites, wood wasps, and furniture scuffs.
Your walls are even vulnerable to pets and young children who may unintentionally cause damage. Fortunately, you can restore the look of your walls by placing a patch over the
damaged area or by contacting a handy mobile professional to provide you with a quick fix.
                    Discovering Cracks in Your Mobile Home Ceilings
Discovering that you have small hairline cracks or large cracks in your mobile home ceiling is concerning.  This can be caused by a number of issues.  The number one issue being that your mobile home is not level.  Read our article on Mobile Home Leveling and also Why is My Ceiling Cracking?  For more help with this situation. 
                                               In Conclusion
A manufactured home is an excellent option if you want a simple way to live. You should also be aware of the problems that you may experience down the road.
Over the years, you may notice certain problems that you can easily repair by yourself. However, you can save time by hiring experienced professionals to repair the most crucial issues that you may have with your home.
By following these tips, you can keep your mobile home damage-free.