People spend an average of 20 to 30 minutes a day in their bathrooms.  This adds up to roughly 175 hours per year.  That is a lot of time in one room in your home.  So why not make the room nice and something you can enjoy. Mobile home bathrooms have come a long way over the years.  In this article we will explore the benefits of a mobile home bathroom remodel. 
                         Mobile Home Bathroom Ideas
One of the first things you need to do before ever starting your remodeling project is to come up with a design.  Are you happy with the layout of the bathroom?  Do you want to do a major renovation like moving tubs, toilets, and walls or are you just looking to spruce the room up a bit?
You do not want to start the project only to discover that you're not happy with the layout of the room. Making changes part way through a remodel can add additional costs to the bathroom remodel. 
There are options online where you can take pictures of your mobile home bathroom and pay to have someone redesign it for you.
                         Manufactured Home Bathroom Remodel
Another popular option would be to take the measurements of the room to a cabinet specialist.  Cabinet specialists have software programs where they can virtually layout your room.  They can make changes and work to put something together that looks nice and fits your needs.  The best part is you get to see the completed project before you do any work.  This can be very motivating because you now know what you will be working towards.
                            Do It Yourself Bathroom Remodeling
After you figure out the layout of the remodel is the biggest question is will you do the work, or will you hire it done?
Doing the work yourself can save you quite a bit of money but it really depends on how big of a job you are taking on. Are you just painting and redoing some flooring or are you ripping out tubs and showers? Only you can decide if you have the time and talent to do the remodeling work on your own.
If you are replacing all the cupboards in your bathroom you need to check out RTA Cabinets.  These cabinets are amazing quality and can save you hundreds over store bought products.  Look below don't they look amazing!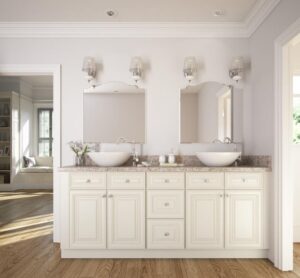 Mobile Home Bathroom Remodel Cost
A total mobile home bathroom remodel is not for the faint of heart.  If you only have one bathroom in your mobile home, it can make each day seem like three that you remodel.  Not having your bathroom is not something that is easy to deal with. 
Interested in Selling Your Mobile Home.  Get a FREE quote today! 
A bathroom remodel can cost from a hundred dollars to well over a few thousand dollars depending on how extensive of a remodel you want to do. 
Toilets in mobile homes cost around $200, bathroom sink cabinets can run $200 – $700 easily, and a new tub or shower will be approximately $500 – $1000.  These numbers are just for the supplies alone not including the time and labor to have them fixed.
              Mobile Home Bathroom Remodel:  Contractor
If you decide to hire a contractor to do the remodel job make sure he / she is licensed and insured.  You will want to get some referrals for a contractor.  Be sure to get a few different quotes for the job.  I would recommend at least 3 quotes to start. 
When you finally find a contractor that works within your budget make sure you do not pay for the job in full to start.  I would also make sure that you have some type of contract with the contractor.  When it comes to this type of project you do not want to go on just a handshake deal.  Contractors are accustomed to putting together contracts and this should come as no surprise.   
Be sure the contract is something that you both sign and have a copy.  This contract should specify when payment is due and how much is due throughout the job. 
                                 Trailer Bathroom Remodel
One thing you might want to consider is painting the whole room.  A new semi-gloss color on the walls will help to clean up the room.  If you have dark walls in your bathroom, try to lighten it up.  It may take a couple extra coats of paint but going with a neutral color that is light will open the walls making the room look bigger. 
Another great benefit of painting the walls is that it makes the walls easy to clean.  Newer paint has flexibility, and it is wipes down easily when little hands or fingerprints get on it. 
                                     Painting Bathroom Cupboards
If you are happy with the location and the quality of your bathroom cupboards maybe they just need to be spruced up.  Behr paint makes an amazing paint that you can use to cover bathroom cupboards.  Just one coat and your cabinets look like new. 
Adding new cabinet handle pulls and new faucets or countertops and this might be just the face lift your bathroom needs.  
Painting your cupboards can save you a lot of time and effort in your bathroom remodel project.  The new paint will also make the cabinets easier to wipe down and clean.
            Mobile Home Bathroom Remodel Before and After
Check out these before and after pictures.  No matter how extensive your remodeling project it is amazing the difference in before and after pictures.  Be sure to get your camera out and snap some pictures before you start.
                                        
                     Mobile Home Shower Remodel
A removal of a shower unit is not an easy task.  Figuring out if you want to replace the shower surround or if you are installing something totally different from what is there really is the key question. 
You will need to decide what type of budget you want to stay within.  There are so many options when it comes to showers.  You can replace them with tile, tile board or even one full pop in unit. 
Whether you are looking for a new shower, tub, sink or fixtures visit this link and have them delivered right to your doorstep.  
I would recommend visiting a local hardware store, the big stores, and walking through the many choices available.  This will help to give you an idea of what type of shower you want to use. 
                            Mobile Home Shower Units
Make sure to take your measurements with you to the hardware store.  This way you will know what units will fit the space you are working with.  You don't want to purchase something that is going to require you to move walls if you don't have to. 
Most shower units come in standard sizes.  If you find that there is nothing that fits the area you are working within you might have to special order a unit.  Just be prepared for sticker shock as many custom order units can cost hundreds over the standard options. 
              Single Wide Mobile Home Bathroom Remodel
It really doesn't matter if you have a singlewide, doublewide or triplewide mobile home bathroom to remodel.  All bathrooms will be roughly the same size and require the same attention to remodel. 
Painting the walls, replacing lighting or just updating the flooring can make big differences in your mobile home bathroom.
Just adding new mirrors will help to make your room look more spacious and modern. 
Even adding a few plants or bathroom accessories can liven up the area. 
                                Bathroom Remodel Flooring
When deciding on what flooring to put in your bathroom remodel be sure to use something that can be exposed to water. 
Ceramic or glass tile is going to be the most expensive option when it comes to replacing a floor. 
A vinyl plank flooring is a very nice option and easy to install and to cut.  Just make sure you do not pick out a plank with a cardboard backing.  Once these are exposed to water they swell and heave. They make plenty of colors in a plastic back that will be resistant to water.     
A cheaper option yet would be a peel and stick tile. These tiles can be cut with scissors, and they go on easily. 
TIP: Be sure to keep an extra box of tiles, planks or stick tiles in case a tile gets damaged at some point.  It will save you from replacing the whole floor.
 
                         Mobile Home Garden Tub Makeover
Who doesn't love a nice garden tub? After a long day, a relaxing soak in a garden tub is amazing.  Garden tubs can crack over time, and this will need to be repaired quickly.  Water can quickly damage your subfloor making them soft and spongy. 
You can try to patch the tub with a tub repair kit if you do not have the funds to replace it.  Replacing a garden tub is not easy. 
Garden tubs will range from $500 – $1000 just for the tub not including installation. 
Garden tubs can be painted.  They can be brought back to life by doing this.  If you find that your garden tub is in good condition you might try to paint it to save money.  You might be surprised how nice it looks once painted. 
                     Replace Garden Tub with Walk in Shower
Maybe soaking in a garden tub is not for you.  You might just like a quick shower.  You can take out the garden tub and replace it with a walk-in shower.  You will have to add walls to support the new shower system.

Just be sure to measure your shower unit and make sure it will fit before you tack everything down. 
Showers are nice if you are just trying to get cleaned off from a day at work or a night at the gym. 
There are so many options now available for shower heads.  Having a removable shower head is extremely nice and an affordable fix as well. 
                       Mobile Home Bathtub Replacement
Replacing a mobile home tub can be challenging.  It is typically more challenging than a stick built home because of the limited space.  However, it is possible to do with the correct tools and instructions. 
Here are some general steps to take to replace your bathtub
You will want to turn off the mobile home water shutoff valve. You could have a valve near the tub or you might have to crawl under the home to shut off the main. 

You might have to remove walls or surrounds to access the pipe area of the tub

Start to disconnect all lines hooked to the tub.

To remove the bathtub you might need to cut it into smaller pieces. A Sawzall is a great tool for doing just this. 

Once you have the tub removed make sure to clean the area well. A shop vac works great for this type of job.

Install the new bathtub using the manufacturer's instructions.

Build and replace any supporting walls that were removed during the removal of the old tub.

Hook up all water lines and test them out before you seal up the area.

Seal the area back up and finish off with tile of your choice.
Whether you are looking for a new shower, tub, sink or fixtures visit this link and have them delivered right to your doorstep.  
                              Mobile Home Tub Surrounds
Once you have the tub installed consider putting a tub surround above it.  It is easy to splash water up on the drywall and this can cause damage.  This is especially the case if you have a jet powered garden tub. 
A tub surround will protect your walls for years to come.  A surround can also add appeal to your room.    
               Mobile Home Master Bathroom Remodel
The master bathroom is the biggest bathroom in a mobile home.  This bathroom typically features a garden tub, shower, larger vanity, and toilet area.   This bathroom will probably cost you the most to replace because of the size of the room. 
Be sure to figure out a budget and try to stick to it as close as possible.  You can easily do work yourself to make your bathroom look like new again. 
You can make this room look as elegant as you want or just spruce it up so it is easier to keep clean.  Paint goes a long way when it comes to changing the look over your mobile home bathroom.  This is also a fun Spring-cleaning project.
                       Conclusion: Redoing a Bathroom
In conclusion, bathroom remodels are a great way to add value to your mobile home.  When you are looking to increase the value of your home these projects can pack a punch.  Many bathroom remodels add roughly 50% of what is spent on the renovation to the value.  So, get your camera and hammer ready and get to work on your mobile home bathroom remodel.
Interested in Selling Your Mobile Home.  Get a FREE quote today!