Mobile homes are amazing places to live.  However if you find that you have one that you want to dispose of it can have you saying I Regret Buying a Mobile Home.  
If you have outgrown your home, it is too old or it is not livable you will need to find ways to get rid of an old mobile home.  
  Ways to Get Rid of An Old Mobile Home
Demolition is a common process that involves the use of heavy machinery.  These machines can make it easy to knock down an old mobile home. This is an approach that you should consider when it is a cost-effective. It does make the process an easy way to tear down your home but it can be expensive.
Bear in mind that there are requirements for you to have your home torn down.  Having it professionally checked for asbestos before you can start the demolition process is one. You will also need a permit from your local government for your home demolition.
                              Cost to Remove a Mobile Home
If you choose not to do the job yourself, you can simply hire contractors.  These contractor will perform the job on your behalf. Make sure that you hire someone who is licensed and insured to do the job.  Injuries happen quite often when tearing down a mobile home.  
Make sure whoever you hire also keeps the site secure.  You do not want someone stumbling through the job site after hours and getting hurt either.  
Hiring a licensed insured contractor can cost a few thousand dollars.  Just make sure you have a contract with the demolition crew.  Try to get references as well, it will give you less headaches.  
           Ways to Get Rid of An Old Mobile Home: Donate
If you don't want to demolish your property, you can donate it. This is a smart option for you to take if you're not sure how to dispose of your home. Your old manufactured home could be useful to someone looking for a place to live.
Furthermore, there are no costs involved in donating your home. You can also get it removed for free regardless if you have a single or double-wide home. Donating your mobile home is a good way for you to help people.  It also while help to minimize the stress of moving your home. 
If you are looking to donate your mobile home check out Kars 4 Kids.  This is a great place to start and they offer a maximum tax deduction.  
      Ways to Get Rid of an Old Mobile Home : Removal
Just remember when you donate a mobile home you give it away free but you also get an excellent tax benefit from it as well.  Check with your tax preparer when you go to get your taxes done.  Make sure you get a value report on the home so you know roughly what it is worth and you also take pictures.    
                                  Scrap the Mobile Home
If your mobile home has metal sides or a metal roof there will be value in the metal in the home.  If your only hope is to demolish the home why not make a little bit of money doing it.  The first thing you will want to do is go through the inside of the mobile home looking for metal fixtures inside.  Pull all of those out and put them in a pile. 
Don't forget any appliances like a fridge, stove, dishwasher  and washer or dryer.  All of these have metal in them and will give you some quick cash at the local scrap yard.
Just remember if any of them work you could also put them on Facebook Marketplace to make some extra cash.  People are always looking for used appliances.
Don't forget to look for the hot water heater in the home.  It is usually hidden behind a panel in the master bedroom closet.  These units fetch a pretty good scrap price as well. 
Then climb under the mobile home.  Many homes have metal piping under them that will be of value.  
One last item that you can scrap and that will be worth money in the furnace and the AC unit condenser.  
Load all of these items up and take them in.  You might be surprised at what you get.  
TIP:  You can store these items in a side yard and wait for the price of metal to go up as well.  Metal prices fluctuate and you might be able to get 25%- 50% more if you hold onto it.  
                                        Sell the Mobile Home
If you want to sell your manufactured home, you don't have to go through a demolition process. You can sell your manufactured home the way it is. This saves you the trouble of spending too much money to get rid of the home.
TIP:  If you want to keep the mobile home however you don't like the location it is in check out our article on How to Move a Mobile Home for Free.  
                      What to Do with An Old Mobile Home
If your mobile home is 1979 and older I would also look into listing the home online.  There are many people who are interested in Old Mobile Homes no matter what condition.  There are restoration people that search the internet looking for these types of homes.  One mans trash is truly another mans treasure.  You would be surprised at the extents people will go to to restore these types of homes.  
         Ways to Get Rid of an Old Mobile Home: Salvage Yards 
Some salvage yards may also come in and remove the mobile home for you.  If the home is a metal sided / metal roof home they may agree to send some of their guys over to tear it apart.  Just realize they are after all the metal to the home not the wood frame and insulation.  This part you would have to dispose of and that can make for some messy clean up.  
Once the home is removed of all its metal you will want to get in there quickly to clean up.  One good wind storm and you might just be cleaning up half your neighborhood.  
          Consider the Best Removal Options that Work for You
Hopefully this article gave you a few ideas and ways to get of an Old Mobile Home.  
This can save you time and makes it easier for you to move on and find the right housing that works for you.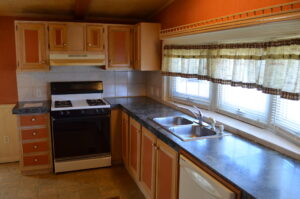 Ways to Get Rid of an Old Mobile Home: Conclusion
If you're thinking about getting rid of your mobile home, you can reach out to a reputable team of Mobile Home Buyers that you can trust. We're more than happy to give you a free quote for your home.