When it comes to affordability it would be    hard to beat a mobile home park.
Especially if you look into buying a used mobile home rather than a new mobile home.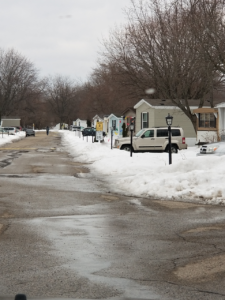 New mobile home payments can range anywhere from $500 – $1000+ a month depending on how elaborate of a mobile home you decide to buy.
​Whereas a used mobile home you could buy for a few thousand dollars total and probably pay cash. The biggest pro or advantage to that is the fact that you would own the mobile home free and clear and you would not have to pay on the home itself. 
When purchasing a used mobile home there typically is always some type of repairs that need to be done to the unit.  Whether it be carpet, paint or just some simple trim repair.  When it comes to living in a mobile home it is similar in that way to a stick built home ….you are going to make it your own and every home will need something to put your special touch on it.   
Mobile home parks charge a monthly lot rent on their land to each mobile home owner.  Now depending on the area lot rent can run you anywhere from $200 – $700+ a month.  When added in with a house payment that can be a pretty hefty bill to pay each month.  However,  if you can pay cash for the mobile home itself and not have a house payment you can live pretty affordably and comfortably in a mobile home park just paying the lot rent each month.  Be sure to check around to each park rates can vary drastically per area.  Rates sometimes reflect the amount of features that the park has as well: do they have a community clubhouse you can use for events, do they have a community pool, does the park have playgrounds or other activities available.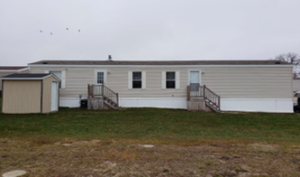 If I were going to move into a mobile home park I would have to decide what was important to me and make a list.  Would it be the convenience of stores nearby, what the park offered for activities or would it be as simple as the most affordable lot rent in town.  Whatever your reason for looking into moving into a mobile home park check out your options and make your best choice.
Many of your friends or family might snub the fact that you want to live in a mobile home park because of their projected stereotype. That is however all in the past… parks now a days are designed beautifully and have so much more to offer than they use to.  You might be the envy of your friends and family once they see the convenience, affordability and the resources that a mobile home community can provide you with. 
                                                                                        Accessibility to people
In a mobile home park there are always many people around.  You probably wouldn't have to look for to find a neighbor, maintenance person or staff of the park in the office.  If you are a people person this might be a great thing. If you enjoy being neighborly and helping people out living in a mobile home park might be right up your alley.  The security of constantly having people around you is sometimes a good thing.  When you leave your home you might have the security of knowing that your home will also be looked after by fellow neighbors as well. 
However, living in such close proximity to each other might have some disadvantages as well.
 
                                                                            Mobile home parks vs. Apartments
I do believe that mobile home parks are better than living in an apartment complex.  In an apartment complex you typically have neighbors to each side of you and above and below you.  If you are lucky enough to have good neighbors in an apartment complex well….lets just say you are lucky. 
In an apartment complex neighbors come and go quite quickly and you are constantly having to adjust to the new environment.  With living in a mobile home community you have a whole home to yourself.  You don't have to share laundry areas or stairways to and from you home.  It is true mobile home park living does have quite a few advantages.   
One of the biggest advantages that I have found when living in a mobile home park compared to an apartment is the fact that you can make the mobile home your own.  You can do whatever type of remodeling inside the home that your heart desires and if you are paying a monthly fee who wouldn't want this.  I love to do remodeling projects in my home and making it the way I want it.  In rentals or apartments you typically are stuck with one color wall through the home and you aren't allowed to do any type of remodeling or painting. 
                                                                                           Lower property taxes
One of the biggest benefits to living in a mobile home park as opposed to owning a stick built home is the savings you will have each year on property taxes.  On stick built homes you can pay anywhere from $500 – $2500+ a year on just property taxes alone.  This is a huge savings for many mobile home owners.  Now, a mobile home will be treated as personal property in most states and because you live in the home there may be a personal property tax associated with the home.  These taxes are typically minimal compared to regular property taxes on stick built homes.  
                                                                                                  Park rules
For some residents in a mobile home community having rules is a great thing.  You have to keep your yard looking a certain way, you might not be allowed pets and some parks are just 55+ mobile home communities where no children are allowed.  Park rules are a good thing because it sets the standard of what the park expects from you as a tenant each month. If you are a person that likes freedom however and doesn't take well to having a list of rules a mobile home park might not be the right fit for you. 
                                                                                               Lack of Space
If you are a person that has many belongings a mobile home park might not be a good choice for you. This would be a true con or disadvantage to living in a mobile home park.  There tends to be a limited amount of space.  Yards are typically very small and when it comes to storage you usually have an 8 x 10 shed to keep things.  A pro or advantage to this however for most residents is the fact that you have very little to maintain.  You would have a very small area that you would have to mow and very few bushes and trees to cut and prune.  If you are looking for a bit of the simple life this is a true advantage to living in a mobile home park.
                                                                                                 Resale Value
When it comes to resale value on a mobile home in a mobile home park this can be a challenge.   You might discover that you paid quite a bit more for the home than it is worth when you go to sell it, especially if you purchase a new mobile home.  If you need to move quickly from your mobile home this might cause an issue.  So be sure to make an educated decision when purchasing a mobile home in a mobile home park.  If you are going to stay there for 10+ years and you are looking to buy a new home it might be worth it.  However, if you are looking to stay for 1 to 3 years you might find yourself upside down on what you owe on your mortgage when it comes time to sell your home.   
In conclusion, mobile home parks can be a great place to spread your wings and have a great time with the right community.  Just do your research before you make any commitment to live in a mobile home park and make sure you look over all the paperwork that you are about to sign with the park.  It will be very important when it comes time to sell your mobile home.