Titles are legal pieces of paper giving you ownership of your mobile home and that is why it is important to have them in your name and in a safe place.    A mobile home title will look just like a car title (see image below).  
Surprisingly, a mobile home is considered a motor vehicle in all states. The title is always in a specific color per state. If you have one that isn't colored you might just have a photo copy of your title.  If you can't find your title where do you look.   Look where you keep your personal files in your home.  If you can't find it there then your local Bureau of Motor Vehicle or our local county courthouse might be able to help.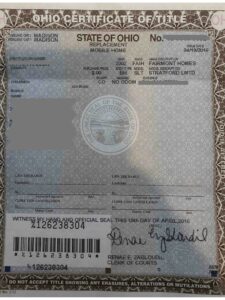 What Does Your Mobile Home Title Tell You
 Mobile home titles tell you the make, model, year and serial number of your mobile home.  They also will show the owner of the mobile home as recognized by the state in which the mobile home resides.
If you have a loan on your mobile home your title will probably state your banks name. Under lien holder on the title is where you would find this information.  In some states the bank will hold your title until you have paid the loan off in full so you won't have the original title the bank will.
What Your Mobile Home Title Won't Tell You
Many people are surprised to learn that their mobile home title doesn't tell the length and width of their mobile home.  Measuring a mobile home is easy especially if you have a 100 ft tape which you can get at your local hardware stores.
You May Only Have a Property Deed and Not a Mobile Home Title 
If you have a property deed and it mentions the mobile home on it there may be no title to the mobile home.  A deed looks just like a regular piece of paper. It will mention the owners name at the top and the address to the property.  It will also give a legal description of the property (see image below).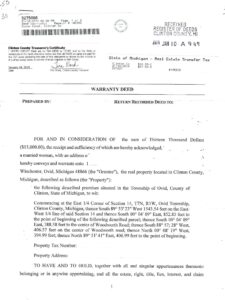 What If You Want To Get a Loan on the Mobile Home 
If you have a loan against the home and land a bank will require that you dispose or abolish the title to the mobile home. Banks require this so that they can finance the home like a regular stick built home. Banks don't want to give you a loan on the land and mobile home only to have you sell the mobile home to someone else and have it moved. This is the way banks fix that by destroying the title.    
There are ways to get a title reinstated, in most states, but it can be a process.
Will A Mobile Home Ever Have More Than One Title
A singlewide mobile home will typically just have one title. If you have a doublewide there may be two titles: one for each side of the home.  Triplewides will sometimes have three titles.  Having multiple titles is the case in just specific states.  Again, it is important to refer to your local Bureau of Motor Vehicles for the most up to date information.
Mobile Home Titles in the State of Texas
In the state of Texas many times you are not given a title to a mobile home. Texas has its own database known as the ​Texas Department of Housing and Community Affairs that you can search.  Titles in this state are commonly referred to as SOL's. ​​ On this website you can transfer ownership.  You can also find out a bunch of great information about your mobile home.  
In Conclusion  
Mobile Home Titles are important.  It is important that you keep them in a safe place such as a fireproof box or a safety deposit box in case of a fire.  You will need your title to transfer ownership or to prove that you own the mobile home.  So keep it safe!