A Mobile Home Porch is Amazing! Are you looking for ways to add value to your mobile home.  Maybe you want more room to entertain friends.  There is nothing better than adding a porch to your home. 
A covered porch will give you a place to BBQ, sit and watch the birds or just chat with friends and family.  Check out these porch ideas.
               Double Wide Mobile Home Front Porch
When adding a porch to a doublewide mobile home you will have a couple different options.  Some of these porches can be quite elaborate.  Others can just be a quick add on to your home. 
A covered porch will help your mobile home look more like a stick built home and less like a mobile home.  Adding a covered porch with shingles or a metal roof that matches your mobile home can really make it stand out.  Check out these mobile home porch ideas: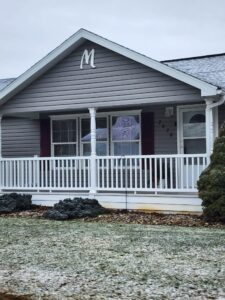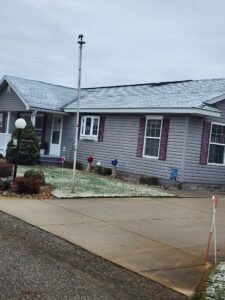 Single Wide Mobile Home Porch Ideas
A singlewide mobile home porch adds a beautiful entrance to your mobile home.  It will shield your front door from rain and snow.  A porch on the front can give your singlewide great curb appeal as well and help it to stand out.  This will add value to your home for years to come.
                 How to Attach a Mobile Home Roof to a Mobile Home
Whether you are looking to hire someone to build a porch on your mobile home or you are looking to do it yourself you will want a plan in place.  There are many ways that a porch can be added to the front of your mobile home.  Some porches have a roof that will continue back into the already existing mobile home roof. These types of roofs can be very expensive to build.
Other roofs will just attach to the siding of your mobile home.  See the example below.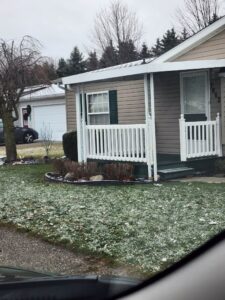 Small Front Porch Ideas on a Budget
A small porch will help you to save money and one that isn't attached directly into the current roof will also save money.  Here is a porch idea if you are on a tight budget.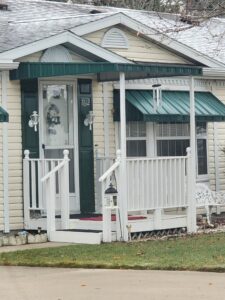 Be sure to get quotes from a handful of contractors before you start.  Prices can vary greatly.  You will also want to be sure to get a contractor that comes with referrals. 
                                                      Deck Permits
It will also be important to check with your local building office to see if you need a building permit for your mobile home deck.  Usually the county building department can help you with this process.
                                 Mobile Home Deck and Steps
If you are looking for  mobile home deck plans be sure to visit our article for detailed design ideas.  A nice deck and steps to your mobile home will be important before you add a porch to your singlewide or doublewide mobile home. 
                                                      In Conclusion
In conclusion, make sure if you decide to add an elaborate covered porch to your mobile home that you aren't looking to sell anytime soon.  A home porch looks great but if you decide that you would like to move your mobile home this can cause issues.  Many buyers may want to move your home and the deck can add major expense to doing that.