When you live in a mobile manufactured home park one thing you might learn quite quickly is that you have to be courteous of your neighbors.  When you live in such close proximity to each other you just have to make some exceptions.  Having a dozen loud birds or squirrels visiting your bird feeder just might be one of them but there is an alternative if you are an avid bird watcher.  Hummingbirds and hummingbird feeders in a mobile manufactured home park are very quite option.
Hummingbirds are very entertaining to watch.  I don't think there is a bird that would thank you more for your help in feeding them than the Hummingbird.
Hummingbirds
A typical hummingbird will burn 3 to 7 calories a day and can consume nearly ½ of its weight daily in sugar alone.  The thing about hummingbirds is they never stop moving so having food readily available really helps.
Hummingbird food and feeders should be put out in March and then taken down on Labor Day weekend.  If you continue to feed these birds after Labor Day they will not migrate and it can endanger them due to cooler temperatures that they can't handle.
Hummingbird Feed
There are so many options available when it comes to hummingbird feed.  One of the easiest is to make sugar water for your hummingbirds.  It is very simple. Plus it doesn't attract rodent / pests to your mobile home park
Here is the recipe for making a safe hummingbird feed or sugar water.  The best part if this feed does not attract squirrels that can be of nuisance.
Hummingbird Nectar
First mix four parts water with one part of sugar and bring it to a boil on the stove.  This will help to kill of any bacteria or mold that might be present. Next, you going to want to let the water cool before you fill the feeder. If you have a plastic feeder that is very important.
Storing Hummingbird Feed
If you discover that you have made more sugar water than will fit in your feeder don't despair, just store it in your refrigerator.  Some people suggest that you can add red dye to the sugar water but this is NOT recommended.
If this process is just too time consuming for hummingbird food just visit your local department store or pet store. There are great packets available that you simply dump into a calculated measurement of water and you don't have to boil them at all.
The best part of these mixtures is they are super cheap.  So these really are one of my favorite go to hummingbird food choices.
The other thing is the hummingbird food doesn't take up much room compared to regular bird seed.  If you are limited for space in your mobile home this is also a plus.
Other Hummingbird Feed Ideas
If the pre-made mixture wasn't good enough you can now get bottled nectar ready to use that looks just like fruit punch.  Simply open the top and its ready to use.  This has slowly become a great option for bird watchers that simply don't have the time to mix up hummingbird food but still love seeing the birds.  This nectar is safe and most are free of red dye.
Hummingbird Nectar: Disadvantages
One thing that is hard to deal with when dealing with the sugary mixture in the feeders is the arrival of ants.  You may find that it doesn't take long for ants to invade your hummingbird feeder because of the sugary smell.  There is a solution – try this product sold at your local Lowe's stores – a little application of this product and you will be amazed at how you can keep the ants at bay.
Ants can do quite a bit of damage to a mobile home so it is important to watch out for these pests.
I have heard of home owners cutting fruit in half and hooking it to a tree to attract these birds.  Many times it is not the fruit itself that the hummingbirds come to but the bugs that come to the fruit.
Hummingbird Baby
It is such a joy to watch hummingbird start to arrive at your hummingbird feeder. One of the best things that I have been able to witness is a female hummingbird bringing her babies to the feeders.
Hummingbirds at your feeder
This is a real amazing experience to witness and heart warming to say the least. Hummingbirds typically will return year and year to the same feeder. If you feed them during the Spring / Summer months you might be surprised to see them return again next year.  Hummingbirds have amazing memories.  Research has even show that they can recognize the humans that feed them.
Hummingbirds also love insects.  That is one of the greatest things about them is they will eat mosquitoes, spiders and other small bugs.  They also love pollen and sap but these birds have great resources for these things and being able to supplement it with your help is really what it is all about and gives you the opportunity to view these amazing birds at your feeder.
Natural ways to attract hummingbirds
What I really love is providing great feed for these birds and trees / bushes that attracts them as well. One type of plant that hummingbirds seem to be crazy for is Trumpet vines. I have a few of these in my yard and they are a magnet for hummingbirds. If hummingbirds are one of your favorite birds isn't it great to know there are more options available other than feeders to bring them to your yard?
Hummingbird feeders and cleaning
Keeping your feeders clean and free of mold will help keep your hummingbirds healthy and prevent a disease from spreading. If your feeder is in a bright, sunny spot, you'll need to clean it more frequently (but you're more likely to get birds too).
Cleaning out the reservoir with a bottle brush will remove any mold in the reservoir. Use pipe cleaners or a small specialized brush (available at most birding stores) to clean out the holes from which the birds feed.  Scrub away any mold or crystallized sugar. Rinse well and let dry before putting new feedback into it.
Other cleaning ideas
Hummingbird feeders are specifically designed to dispense liquid (nectar), not seeds and make the nectar easy to reach for the bird without drawing in unwanted insects. While cleaning a hummingbird feeder, scrub the inside of the hummingbird feeder tank well using a hummingbird feeder brush working to get out any goop and gunk that might have grown inside. You can order these online I really like this set of brushes because of the variety of sizes: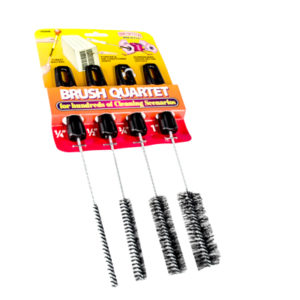 Buying the right hummingbird feeder is essential to attracting a variety of these miniature migratory birds to your garden. Most hummingbird feeders are hanging feeders and come in a variety of options.  Below are some of the best available.
Easy to clean hummingbird feeders
 Best Overall: First Nature 3051 Hummingbird Feeder, 16-Ounce
The 16-ounce First Nature 3051 Hummingbird Feeder is an excellent purchase for both new and experienced bird lovers.
The First Nature Feeder is made up of a red base and clear plastic cylinder that holds the hummingbird food. Bottom features ten feeding ports and a round perch where the birds can land. The food reservoir holds up to 16 ounces of liquid, and its wide-mouth opening makes it easier to clean than many comparable products. This feeder also boasts a sealing ring to stop any leaking, as well as an S-hook so you can hang it up. You can simply order these feeders here from Amazon:
Best Glass:  Hummingbird Feeder
Some people prefer glass hummingbird feeders for durability and aesthetic purposes. One of the best glass products available is the More Birds Hummingbird Feeder.
The More Birds Feeder is a little more expensive than plastic options, but that's because the reservoir is made of a glass bottle and the base is metal. The feeder can hold up to 20 ounces of hummingbird nectar, and the bottle has a wide opening to make cleaning easier it's even dishwasher safe. The metal base comes in an attractive brushed metal finish, and it features five feeding ports designed like red flowers, as well as five perches for your little friends.
This unique glass hummingbird feeder has a distinctly vintage vibe that's sure to look great in your yard. Reviewers say their hummingbirds love this feeder, and several applaud the product's sturdy construction and leak-free performance.
Best Over-sized Hummingbird Feeder
If you don't like to fill your hummingbird feeder everyday this might be a great option.  You might have a whole herd of hummingbirds to feed? (A group of hummingbirds is called a "charm" — how cute!) You can keep an army of these little birds fed and happy with the First Nature 3090 32-ounce Hummingbird Flower Feeder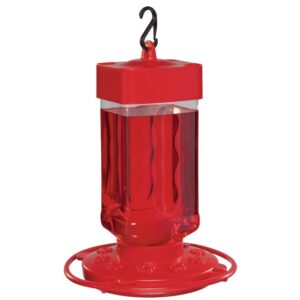 This oversized hummingbird feeder can hold an impressive 32 ounces of nectar in its plastic reservoir, which screws into the red plastic base. There are ten yellow feeding stations where your hummingbirds can get a drink and an all-around perch where they can rest their wings. The First Nature feeder has a sealing ring to prevent leaking, and there's a built-in ant moat to keep pesky little bugs away from the sweet nectar.
Users love this product's wide-mouth reservoir, which is easy to clean and fill. Several note the First Nature 32-ounce Hummingbird Flower Feeder is one of the best large-capacity feeders, accommodating several birds at once. Another great feature is that you can remove the yellow flowers to give your birds a little extra drinking room. Overall, this product is a wise purchase if you have a lot of hummingbirds in your area.
Hummingbird Feeders Mini Set
Here is small hummingbird feeder called the GrayBunny GB-6846B Mini Hummingbird Feeder in a set of 4.  These are great if you want to hang several small hummingbird feeders in different parts of your yard?  If you have many viewing areas in your mobile home this could be a great option.  The GrayBunny Mini Hummingbird Feeders
are perfect the miniature feeders to mount in various locations, helping you figure out where your birds prefer to eat.
You get four 2.3-ounce hummingbird feeders with this product, each made from durable plastic. The feeders have clear plastic reservoirs that screw into small red bases with a single feeding station shaped like a yellow flower. These feeders don't have perches, but don't worry! Hummingbirds can eat mid-flight they won't hang around once they're done. The mini feeders have a built-in hanging hook and come with wires that allow you to place them around your home.
The best reviews
Reviewers love the affordable price of these small feeders, and most agree their hummingbirds like using the product! However, several users note problems with leaking, and if you have a host of hungry birds, you'll probably find yourself refilling these mini feeders multiple times per week.
 Glass Hummingbird Bird Feeder 
This feeder wins the best design: Perky Pet Antique Green Glass Looking for something a little more unique? This vintage-inspired Antique Green Glass Hummingbird Bird Feeder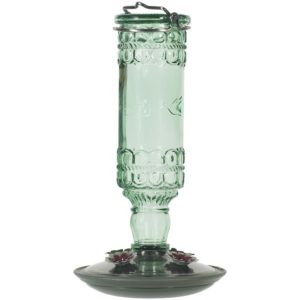 from Perky-Pet will look stunning in your garden. This feeder holds 10 oz of nectar (not included) and has four flower ports for the birds to come feast. The base also has silver brushed accents to give it more of a retro and antique feel.
The unit comes with a metal hanger which makes it easy to hang. It is very easy to clean.
Hummingbird Feeder Pest-Free
This hummingbird feeder wins the best pest free option.  Its called the Aspects 367 Humminzinger Ultra Hummingbird Feeder, 12 – Ounce.  One common complaint about hummingbird feeders is they attract other pests, like bees and ants, who also like the sweet nectar. For this reason, some products have built-in pest deterrent features. One of the best products to help keep annoying bugs away from your hummingbird food is the Aspects 367 Hummzinger Ultra Hummingbird Feeder users swear it does keep away insects!
This hummingbird feeder looks significantly different from other products, as its food reservoir is on the bottom. It can hold up to 12 ounces of nectar, and the red cover attaches merely on top of the reservoir. There are four feeding ports, and a wrap-around perch and the feeding flowers are raised to divert rain.
Top Fill Hummingbird Feeder
The other common woe when it comes to hummingbird feeders is the way they're filled. Most products are filled with nectar while upside down, then you screw the base on and flip it over. However, this often results in spillage, which is why some people prefer top-fill options like the Perky-Pet 24 oz Glass Top Fill Hummingbird Feeder.
This feeder's design prevents you from spilling sticky food on your hands when you fill it up. The 24-ounce reservoir has a cap on top that unscrews.  This allows you to pour nectar into the wide-mouth opening — no inversion necessary! The base has four flower feeding ports, shaped like white flowers, as well as an all-around perch for your birds. Additionally, the feeder has a built-in ant moat on the top, which you can fill with water to deter pesky insects.
Reviewers love that this product is easy to wash and fill, and several mention that it doesn't leak at all. If you're looking for a top-fill hummingbird feeder, this may be your best bet.
If you're interested in buying a bird feeder for the other species of birds in your yard, there are a wide variety of options that you can choose from. Our round-up of the best bird feeders can help you find what you're looking for. (amazon photo)
If you are interested in using something close and personal.  I recommend a window hummingbird feeder for your mobile home.
Disinfecting Hummingbird Feeders
Of all the nasties that grow on hummingbird feeders, the nastiest and hardest to control is black mold. A 15-minute soak in a dilute solution of chlorine bleach (1 part bleach in 10 or more parts water) is very effective at killing black mold on non-porous surfaces, but an hour-long soak in white vinegar is a less toxic alternative (NEVER use bleach and vinegar together: you could kill yourself!). In either case, follow up the soak with a thorough brushing to remove dead mold. Colonies and other organic growths, then rinse well and let the feeder dry before refilling to allow the odor to dissipate.
A safer feeder cleaner
An even safer mold killer that's much kinder to your nose than bleach or vinegar is 3% hydrogen peroxide, the medicinal kind you can buy in any drug or grocery store. The downside is that it's much more expensive than bleach or vinegar. A frugal alternative to traditional soaking is to add a couple of ounces to the feeder bottle, screw on the base, invert the feeder and swirl gently over a sink or bucket to make sure the peroxide covers all inside surfaces, then allow it to stand for at least 10 minutes. While the peroxide is doing its work from the inside, spray the outside with more peroxide to kill any mold growing there. Follow the treatment with a good scrub, including the ports. And rinse well to remove any debris. No drying needed; the peroxide will leave no odor, and the only residues are water and oxygen.
Using dish detergent
This advice applies mainly to bottle-style feeders. Saucer feeders such as the Aspects Hummzingers can be cleaned by hand using dish detergent and the small port brush in the kit above or washed on the top rack of the dishwasher. If any stubborn debris accumulates in the built-in ant moat, the little ball-shaped brush in the Brushtech set will swish it away.
Regardless of what type of feeder you have, it will need cleaning and refilling.  Every 1 to 3 days in hot, windy, and rainy weather and every 4 to 6 days in cooler, calmer and drier weather. Whether the birds have emptied it or not. Keeping your birds feeder clean will provide hours of entertainment in watching these little birds zoom around your yard.
In conclusion, go down to your nearest hardware store and get yourself a hummingbird feeder. They are cheap and can provide hours of entertainment.