Are you searching for the perfect home community that suits your lifestyle and preferences? Whether you're a young family looking for an affordable housing option or a retiree seeking a tight-knit community, mobile home communities offer a range of benefits that make them an attractive choice.
        Find the Perfect Mobile Home Park – Top Tips
When choosing a mobile home community, several factors come into play. From location and amenities to financing options and community regulations, we'll guide you through the decision-making process. We'll delve into how mobile home communities foster a sense of belonging and provide opportunities for social interaction and support.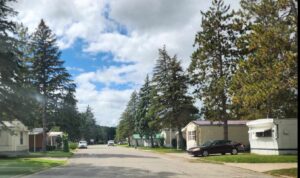 Join us as we take a closer look at the world of mobile home communities and discover why they are becoming increasingly popular among individuals and families alike. Get ready to find your ideal home within these vibrant, welcoming communities!
             How to Buy a Manufactured Home in a Park
Understanding the process of buying a manufactured home in a park
Buying a manufactured home in a park can be an exciting and affordable housing option. However, it's important to understand the process involved to ensure you find the perfect fit for your needs.
Firstly, you'll need to research and select reputable mobile home parks that offer spaces for sale. Look for parks that have good reviews, well-maintained facilities, and amenities that align with your lifestyle preferences. Consider factors such as location, proximity to essential services, and community atmosphere.
Interested in Selling Your Mobile Home.  Get a FREE quote today! 
               Find the Perfect Mobile Home Park – Top Tips
Once you've identified potential parks, it's time to explore financing options. Many buyers choose to finance their purchase through loans specifically designed for manufactured homes. One popular choice is an FHA loan, which is insured by the Federal Housing Administration. These loans often have lower down payment requirements and more flexible credit qualifications compared to traditional mortgages.
Researching and selecting reputable mobile home parks for purchase
When researching mobile home parks, consider visiting them personally or taking virtual tours if available. This will give you a better sense of the overall condition of the park and whether it meets your expectations.
During your visit or virtual tour, pay attention to the quality of infrastructure within the park such as roads, utilities, and common areas. Inquire about any rules or regulations imposed by the park management regarding property maintenance or modifications.
To ensure you're making an informed decision when selecting a mobile home park for purchase:
Read online reviews from current or previous residents.

Talk to neighbors within the community.

Ask about any additional fees associated with living in the park (e.g., lot rent or homeowner association fees).

Inquire about any restrictions on age limits or pet ownership.
By conducting thorough research and due diligence before committing to a specific mobile home park, you can increase your chances of finding one that suits your needs perfectly.
Navigating financing options for purchasing a manufactured home in a park
Financing a manufactured home in a park can be different from traditional home financing. It's crucial to explore all available options and find the one that best fits your financial situation.
Some common financing options for purchasing a manufactured home in a park include:
FHA loans: These loans are backed by the Federal Housing Administration and offer competitive interest rates, low down payments, and lenient credit requirements.

Chattel loans: These are personal property loans specifically designed for manufactured homes without real estate ownership. They often have higher interest rates but can be an option if you don't own the land.

Conventional mortgages: If you own both the home and land, you may qualify for a conventional mortgage similar to those used for site-built homes.
Remember to compare loan terms, interest rates, and fees from different lenders to ensure you're getting the most favorable financing option.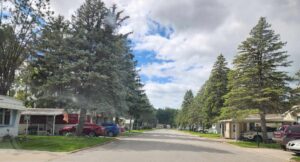 Important considerations when negotiating the purchase agreement
Negotiating the purchase agreement is an essential step when buying a manufactured home in a park. Here are some important considerations:
Price negotiation: Determine an appropriate price based on factors such as market value, condition of the home, and any additional features or upgrades.

Inspection contingency: Include an inspection contingency clause in the agreement to allow for professional inspections of the property before finalizing the purchase.
                  Tips for Finding the Right Mobile Home
Finding the perfect mobile home can be an exciting adventure. Whether you're a first-time buyer or looking to upgrade, there are several key factors to consider when searching for the right mobile home. By following these tips, you'll be well on your way to finding a mobile home that fits your budget and lifestyle.
Determine Your Budget and Desired Features
Before embarking on your search for a mobile home, it's essential to determine your budget and desired features. Assessing your financial situation will help you narrow down your options and prevent overspending. Consider how much you can comfortably afford in terms of monthly mortgage payments or lot rent.
Once you have established your budget, think about the features that are important to you. Are you looking for a spacious kitchen, multiple bedrooms, or a specific layout? Knowing exactly what you want will make it easier to find a mobile home that meets your needs.
Research Reputable Manufacturers and Dealerships
To ensure quality and reliability, it's crucial to research reputable manufacturers and dealerships when buying a mobile home. Look for manufacturers with a solid reputation for producing well-built homes that stand the test of time. Similarly, choose dealerships known for their professionalism and excellent customer service.
Take advantage of online resources such as customer reviews and ratings to gauge the reputation of both manufacturers and dealerships. This research will give you confidence in knowing that you're purchasing from trustworthy sources.
Visit Multiple Properties
Visiting multiple properties is an essential step in finding the right mobile home. Each property may offer different amenities, locations, sizes, layouts, and conditions. By visiting several options, you can compare them side by side and make an informed decision.
During property visits, pay attention to details such as neighborhood atmosphere, proximity to schools or workplaces, access to amenities like parks or shopping centers. Take note of any maintenance issues or repairs needed within each property. These visits will help you visualize yourself living in each mobile home and determine which one feels like the best fit.
Consider Location, Size, Layout, and Condition
When choosing a mobile home, consider various factors such as location, size, layout, and condition. The location should align with your lifestyle and preferences. For example, if you enjoy a vibrant city life, look for mobile home communities situated near urban areas. If peace and tranquility are more important to you, seek out properties in quieter suburban or rural settings.
Size is another crucial factor to consider. Determine how much space you need based on your family size and personal preferences. Whether you're looking for a cozy retreat or a spacious dwelling, there's a mobile home that can accommodate your needs.
The layout of the mobile home should also match your desired lifestyle. Some people prefer open floor plans for easy flow and entertaining while others may value separate rooms for privacy and functionality.
Lastly, carefully assess the condition of any potential mobile homes. Look out for signs of wear and tear or structural issues that may require costly repairs down the line.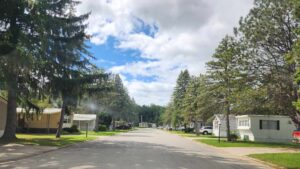 By following these tips when searching for a mobile home, you'll be well-equipped to find the perfect fit within your budget. Take your time exploring options, ask questions along the way, and trust your instincts when making this significant investment in homeownership.
            Best Mobile Home Communities in the US: A Comprehensive Guide
Mobile home communities offer a unique living experience with affordable housing options and a strong sense of community. If you're considering moving into a mobile home community, it's important to find the perfect fit that meets your needs and preferences. In this comprehensive guide, we will highlight some of the top-rated mobile home communities across different states, discuss their amenities, services, and attractions, provide insights into resident satisfaction and overall community atmosphere, and offer tips on how to narrow down your choices.
Top-Rated Mobile Home Communities
There are several standouts worth considering. These communities have garnered positive reviews from residents and offer exceptional amenities and services. Here are a few notable options:
Sunshine Village – Located in Florida, Sunshine Village boasts beautiful landscapes and an active community atmosphere. With amenities like swimming pools, fitness centers, and organized social events, residents can enjoy an active lifestyle while building meaningful connections with their neighbors.

Pine Grove Estates – Situated in California's picturesque countryside, Pine Grove Estates offers a tranquil setting for residents seeking peace and serenity. The community features spacious lots surrounded by nature trails, allowing homeowners to enjoy outdoor activities such as hiking or biking.

Mountain View Park – Nestled in the scenic mountains of Colorado, Mountain View Park provides breathtaking views alongside modern conveniences. Residents can take advantage of recreational facilities like tennis courts or enjoy nearby hiking trails during their leisure time.
Amenities, Services & Attractions
Each featured mobile home community offers unique amenities and services that cater to different interests and lifestyles. For instance:
Sunshine Village provides access to golf courses for avid golfers.

Pine Grove Estates offers onsite maintenance services for hassle-free living.

Mountain View Park has proximity to ski resorts for winter enthusiasts.
Moreover, these communities often organize social events, creating opportunities for residents to connect and foster a sense of belonging. From potluck dinners to holiday celebrations, there is always something happening in these vibrant communities.
Resident Satisfaction & Community Atmosphere
Resident satisfaction plays a crucial role in determining the quality of a mobile home community. To gain insights into this aspect, it is advisable to read reviews and speak with current residents. Online platforms such as community forums or social media groups can provide valuable information regarding resident experiences.
Interested in Selling Your Mobile Home.  Get a FREE quote today! 
Visiting the community in person allows you to get a feel for the overall atmosphere. Take note of how well-maintained the homes are, observe interactions between neighbors, and inquire about any organized activities or clubs available within the community.
Narrowing Down Your Choices
With numerous options available, narrowing down your choices can be overwhelming. To simplify the process, consider the following tips:
Determine your preferred location: Think about whether you prefer coastal living, mountain views, or proximity to urban centers.

Assess amenities: Make a list of amenities that are essential to your lifestyle and prioritize them based on importance.

Consider budget: Evaluate monthly fees and expenses associated with each community to ensure they align with your financial capabilities.

Visit multiple communities: Tour different mobile home communities to compare their atmospheres and gauge how well they match your expectations.
        Utilizing Online Tools for Your Mobile Home Search
Finding the perfect mobile home in a suitable community can be an exciting yet challenging task. With the advancement of technology, online tools have become invaluable resources for homebuyers.
Exploring popular websites and platforms dedicated to listing mobile homes for sale
There are several popular websites and platforms that specialize in listing these properties. These platforms provide a wide range of options, from traditional sites to pocket listings that may not be available elsewhere. Some well-known websites include:
Zillow: Zillow is a comprehensive real estate platform that offers a dedicated section specifically for mobile homes.

Realtor.com: Realtor.com provides an extensive database of mobile homes across different locations.

US Mobile Home Pros:  specializes in manufactured and mobile home listings, offering a vast selection of properties nationwide.
Discussing search filters, map views, and other helpful features available online
To make your search more efficient, online tools offer various features such as search filters and map views. These functionalities allow you to narrow down your options based on specific criteria like price range, number of bedrooms or bathrooms, square footage, and more. By utilizing these filters effectively, you can quickly find properties that meet your requirements.
Map views are particularly useful as they provide a visual representation of available listings within your desired location. You can easily identify neighborhoods or communities where mobile homes are concentrated and explore them further.
Tips for effectively using online tools to find suitable properties within desired locations
When using online tools for your mobile home search, consider the following tips:
Specify your location preferences: Start by selecting the desired city or region where you want to find a mobile home community.

Set up alerts: Many websites allow you to set up alerts based on your preferences. This way, you'll receive notifications whenever new listings that match your criteria become available.

Check for financing options: Some platforms provide information about mobile home financing options, including loans and personal loans tailored specifically for these types of properties.
Utilizing virtual tours or video walkthroughs to get an idea of property conditions remotely
One advantage of online tools is the ability to view virtual tours or video walkthroughs of mobile homes. These features allow you to get a better understanding of the property's condition without physically visiting it. Pay attention to details such as room sizes, layout, and any potential maintenance issues. While virtual tours can't replace an in-person visit entirely, they can help you narrow down your choices before scheduling physical inspections.
Identifying Must-Have Amenities in Mobile Home Parks
Identifying the must-have amenities is crucial. These amenities not only enhance your quality of life but also contribute to a sense of community and belonging.
Common Amenities Found in Modern Mobile Home Parks
Modern mobile home parks often offer a wide range of amenities designed to provide convenience, comfort, and entertainment for residents. Some common amenities you may find include:
Swimming pools: Many mobile home parks feature swimming pools where residents can cool off during hot summer days or enjoy a refreshing swim.

Fitness centers: For those who prioritize an active lifestyle, having an on-site fitness center can be a major plus. These facilities typically offer exercise equipment such as treadmills, weights, and cardio machines.

Clubhouses: Clubhouses serve as central gathering spaces within mobile home parks. They often host social events, parties, and community meetings.

Playgrounds: Families with children will appreciate the presence of playgrounds within the park premises. These areas provide a safe space for kids to play and make new friends.

Laundry facilities: On-site laundry facilities save residents from the hassle of going off-site to do their laundry. This amenity adds convenience to daily chores.
Amenities Catering to Individual Preferences
In addition to common amenities found in most mobile home parks, there are specific options that cater to individual preferences:
Pet-friendly parks: If you have furry companions as part of your family, finding a pet-friendly park is essential. Look for parks that have designated dog walking areas or even pet grooming services.

Golf courses: For avid golfers, having a mobile home park with an adjacent golf course can be a dream come true. It allows residents to indulge in their favorite sport without leaving the community.
Prioritizing Amenities Based on Personal Needs and Lifestyle
When considering mobile home parks, it's important to prioritize amenities based on your personal needs and lifestyle. Here are some tips to help you make the right choice:
Identify your needs: Make a list of amenities that are essential for you and your family. Consider factors such as age, hobbies, and interests.

Evaluate maintenance costs: Some amenities may come with additional maintenance costs or fees. Assess whether these expenses fit within your budget.

Consider long-term plans: Think about your future goals and how the amenities offered by the park align with those plans.
Benefits of Community Events and Social Activities
One of the major advantages of living in a mobile home park is the sense of community fostered through various events and social activities:
Community events: Mobile home parks often organize events like barbecues, movie nights, or holiday celebrations. These gatherings provide opportunities for residents to connect with each other.

Social clubs: Many parks have social clubs catering to different interests such as book clubs, gardening groups, or card game enthusiasts. Joining these clubs helps build friendships with like-minded individuals.
Working with Professional Real Estate Agents in Your Search
Finding the perfect mobile home community can be an exciting and challenging task. With so many options available, it's important to have someone by your side who understands the ins and outs of the real estate market. This is where working with a professional real estate agent comes into play. Let's explore the advantages of collaborating with an agent, tips for finding one experienced in mobile home transactions, and how they can assist you throughout the process.
Advantages of Working with a Real Estate Agent
Real estate agents are experts in their field, equipped with valuable knowledge that can greatly benefit you as you search for your ideal mobile home community. Here are some advantages of working with these professionals:
Market Expertise: Real estate agents have a deep understanding of the local market, including trends and current listings for mobile homes in various communities. They can provide you with valuable insights on pricing, amenities, and location.

Negotiation Skills: Having an experienced agent by your side can make all the difference. They will work on your behalf to secure the best possible deal, ensuring that both parties are satisfied.

Paperwork and Legalities: Buying or renting a mobile home involves paperwork and legal processes that can be overwhelming if you're not familiar with them. A real estate agent will guide you through this maze, ensuring that all necessary documents are completed accurately and efficiently.

Access to Listings: Agents have access to a wide range of listings beyond what is readily available online. They can provide you with exclusive opportunities that match your specific requirements.
Finding an Agent Experienced in Mobile Home Transactions
Not all real estate agents specialize in mobile home transactions, so it's essential to find one who has experience in this niche market. Here are some tips for locating an agent who understands the unique aspects of mobile homes:
Seek recommendations from friends, family, or colleagues who have recently worked with an agent in the mobile home market.

Research online and look for agents who specifically mention their expertise in mobile homes.

Contact local real estate brokerages and inquire about agents who specialize in mobile home communities.
When interviewing potential agents, ask them the following questions to ensure they understand your specific needs:
Have you previously worked with clients interested in mobile home communities?

Look for agents who have successfully helped clients buy or rent mobile homes in the past.

What services do you offer to buyers or renters of mobile homes?

Ensure that the agent is knowledgeable about the entire process, including financing options, inspections, and community regulations.

Can you provide references from previous clients who purchased or rented a mobile home through your assistance?

This will give you an idea of their track record and level of customer service.
By finding an agent experienced in mobile home transactions and asking these key questions, you can increase your chances of finding the perfect fit for your needs.
Finding Your Perfect Fit in Mobile Home Communities
Congratulations! You are now equipped with valuable information on finding the perfect fit in mobile home communities. From understanding how to buy a manufactured home in a park to utilizing online tools for your search, you have taken important steps towards finding your dream mobile home. But before you embark on this exciting journey, let's recap some key points and provide you with a call-to-action.
Firstly, remember that finding the right mobile home is not just about the physical structure; it's about the community that surrounds it. Consider the amenities that matter most to you and identify must-haves in mobile home parks. This will help narrow down your options and ensure you find a community that aligns with your lifestyle.
Now, take what you've learned and start exploring! Utilize our comprehensive guide of the best mobile home communities in the US as a starting point. Reach out to professional real estate agents who specialize in mobile homes to guide you through the process. Remember, this is an opportunity for you to create a place where memories are made and dreams come true.
Interested in Selling Your Mobile Home.  Get a FREE quote today! 
FAQs: Find the Perfect Mobile Home Park
Can I finance a manufactured home in a mobile home community?
Yes, financing options are available for purchasing manufactured homes in mobile home communities. Many lenders offer loans specifically tailored for these types of homes. It's important to research different lenders and compare their terms and interest rates to find the best financing option for your needs.
Are there age restrictions in mobile home communities?
Some mobile home communities do have age restrictions, commonly known as 55+ or senior communities. These communities cater specifically to individuals aged 55 and older who desire an active adult lifestyle. However, there are also plenty of all-age communities available where people of all ages can live together.
What maintenance responsibilities do I have as a homeowner in a mobile home community?
As a homeowner in a mobile home community, it is typically your responsibility to maintain the interior of your home, including any repairs or upgrades. The community management is generally responsible for maintaining common areas, such as roadways and recreational facilities. However, it's important to review the specific rules and regulations of each community you are considering to understand the maintenance responsibilities in detail.
Can I customize my mobile home?
Yes, you can customize your mobile home to reflect your personal style and preferences. From choosing different flooring options to adding upgrades like a porch or extra storage space, there are various ways to make your mobile home feel uniquely yours. Just ensure that any modifications comply with the community's guidelines and local building codes.
What are the monthly fees associated with living in a mobile home community?
Monthly fees in mobile home communities can vary depending on several factors, such as location, amenities offered, and services provided by the community. These fees typically cover expenses like land lease payments (if applicable), water/sewer services, trash removal, and maintenance of common areas. It's essential to inquire about all potential fees before making a decision to ensure they fit within your budget.
You might also be interested in our articles: