When you have finally decided to purchase a mobile home, one of the choices you will have to make next is whether to buy a new one.  A used mobile home is also known as pre-owned home. A mobile home is a long term investment.  You want to be sure you are making the best choices, that you won't end up regretting later on.
Buying a used mobile home might look like a daunting task.  Once you are fully equipped with the right tips, it will come in handy. That's why we have put together a guide to choosing the best pre-owned mobile home for you. However, before we go into that, here are some pros of purchasing a used mobile home.
Buying a Used Mobile Home in a Park
If you are buying this used mobile home in a mobile home park there are some things you need to do.   If you plan to leave the home in the park the very first thing you want to do is check in with the park office.  The land on which the mobile home sits is rented land.  You want to make sure that you can get approved by the park.
Before you purchase a used mobile home in a park be sure to be approved by the office for the land or lot rental.  If you don't follow this step you could be looking at a Mobile Home Eviction.  
Finding A Used Mobile Home: Where to look
There are many options to finding these types of used mobile homes but knowing where to look will help you.  Tour the park that you want to live in.  Be sure to stop by the park office and tell them what you are looking for and leave your contact information.  If you are set on a used mobile home as opposed to a new unit be sure to browse through our used homes at US Mobile Home Pros .
How to Buy a Used Mobile Home
One of the most significant benefits of buying a used mobile home is cost. A used mobile home is always cheaper than buying a new one.  This makes it the best option for those that earn less, or those looking for ways to reduce the costs of housing.
Also, you can negotiate with the seller to sell at a particular price where new mobile homes tend to be at a fixed price.  So, if you are currently on a budget, then a used mobile home is the best option for you.
Move out time: Negotiate this with the seller 
One of the best features of buying used is you can negotiate with the seller about the time frame in which you want to move.  When you buy new many times you have to wait for the home to be set and you have to wait for the utilities to be hooked up. The process from buying the mobile home new and setting it can take months upon months. If you are looking into moving quickly finding one already in a set location that you desire will benefit you more.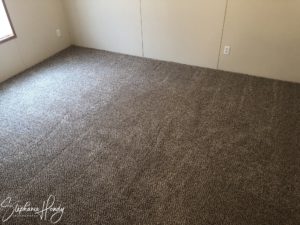 It's almost effortless to revamp a pre-owned mobile home.  Transforming it to your taste shouldn't be difficult at all. You may need to repaint the home and put in new carpet and some other little things but you can do all this yourself.  These small adjustments will cost just a small amount of money. Plus you can do the repairs over a long period of time rather than all at once.  
Also, unlike a new mobile home, you don't have to spend money connecting electricity, the previous occupant would have done all that.  Although you might need to carry out some little repairs like wiring, it won't cost as much as starting all over.
TIP: Looking for additional value 
 See something you like when you tour a used mobile home: dining room tables, golf carts, appliances?  Ask the seller if you can purchase them with the used homes. Many times sellers do not want to move so many items at once and they are happy to sell these items along with the home.  The sellers have probably lived in the home for years. They have furniture that fits each room and if you are able to purchase the items within the home this will not only save the seller time but you as well.
Buying a Used Trailer Home
Take a Tour on the Mobile Home Park
You are not likely to move your mobile home out of the park make sure you are happy there. 
You should inspect your new environment and decide if it is a type of community you would love to live in. If it is a type of community you enjoy and can live in do some final checks.  You should become acquainted with the rules and regulations in the park.
All parks usually have their own laid down rules and regulations, and they typically have a rule book to make it easier for new occupants. So, you should find out and go through them first.
Check for the extent to which the park allows re-decorating your home or lot.  Also check if they allow pets, and some other essential things.
Parks typically require that you sign a year lease or longer on the land that you are renting. Again make sure it's a place your going to be happy with.
Buying a Used Mobile Home Checklist 
Mobile homes can develop different types of problems as time goes on. Although, most of these problems are usually little and inexpensive to repair, some of them might be severe. Which can be as a result of the negligence of the previous occupant, so you have to check well.
Ensure you check well for any signs of leaks at all, be it in the roof, sink, shower, and  tubs. Water is the fastest way for a mobile home to get damaged, so look out for leaks. Step around the washer / dryer area, around the entrance to the bathtubs and showers and also all around the toilets.  Soft spots in sub flooring are usually caused in water areas.
In the kitchen area be sure to check under the kitchen sink.  Leaking pipes can cause damage to the cupboards and rot the bottom of the cupboards.
Looking for a trusted inspector: Try these resources
If you are not sure of the inspection you carried out, you can hire a professional home inspector to inspect on your behalf.  Angieslist is great for finding inspectors in your area with reviews from customers that have used them before.  If you are buying the mobile home from the park the owners / managers usually check vacant homes and fix any problem before the new owner or a potential occupant arrives. However, if you are buying this home direct from the seller you will want to make sure your inspection is thorough.
Wiring and Water: Why these are important to look at
This is probably the two most important things you have to check for when purchasing a pre-owned mobile home. These are two things can be expensive and difficult to fix, so you have to check to ensure they are all functioning well.
When it comes to wiring.  Test each plug within the home to make sure the whole home works.  I have been in many homes where half of the house doesn't work because some animal got below the home and chewed through wiring.
Turn the water on at each faucet and shower to make sure that you have water.  Next you want to make sure the hot water works. A hot water heater is a pretty expensive replacement.  
Go outside of the home and pull a piece of the skirting down and look under the used mobile home.  See if animals have gotten under the used mobile home. They may have pulled down the insulation that sits under the mobile home and this may expose water lines.  When it gets cold out this can cause issues with water lines freezing.
Read our article on Water Leak Under a Mobile Home and why water under the home can cause issues you might not see.  
Heater and Air Conditioner: Expensive Fixes
Ensure that there is a Mobile Home Furnace in the home for cold seasons and an air conditioner for hot days and nights too. Be sure that these two are in an excellent working condition before you make payment. These are also an important aspect of the used mobile home and can be quite expensive to fix.
Financing: Hard to come by 
Most banks are not going to give out a loan for the purchase of a used mobile home. So be sure that you have gathered and saved up enough money for the purchase of the mobile home. You do not want to end up losing it, and have to start the search procedure all over again.
There are some sellers that may be willing to provide owner financing or a land contract.  Make sure to cover that off with the park office.  Some park offices do not allow land contracts within the park.  You will want to know that before you put money down on the home.
Some banks such as 21st Mortgage and Triad Financial will finance some of the older used mobile homes.  So be sure to check around for different options.
                                      Blue Book Mobile Home 
Even after doing all this work you may want to know the value of your mobile home.  To get a blue book report visit this link Mobile Home Value.  They have a full color report that is printable and it will give you a ball park figure of what the home is worth right in location that it sits.  
Paperwork: some of the final steps
I always recommend a contract because it will eliminate any gray area that you might have with the seller.  Once you've carried out a thorough inspection.  If you like what you seen, then the next thing to do is to purchase the home.  Be sure to do this as soon as possible, so that another person doesn't buy it before you.
If you are not taking full possession of the used mobile home because the seller needs time to move follow these steps.  Don't give the seller the complete payment on the mobile home.  Instead put together a contract that lays out when the seller will be moving out. Be sure to state when you will have the keys and a move in date that you both agree to.  Give the seller an agreed upon partial payment until they are completely out of the home.  Then agree to the date of when they will receive the balance on the home.  That way they have a reason to move out of the mobile home.
After making your payment, be sure that both parties get copies of the paperwork regarding the purchase of the mobile home.  You want to be assured that everything about the purchase is going as planned and is under control.  You should know the details of the documents and paperwork involved in the sale and purchase of your mobile home.
If any of the documents are not included, you have the right to request for it.  Also halt the purchase process till every necessary document are provided.
Moving In to Your NEW Used Mobile Home
So, you have finally gotten the Used Mobile Home that suits you perfectly. You have inspected the mobile home park, and you are happy with everything. You have found a way to make your payment, and you ensured the paperwork is complete. Now, you only need to move in!
Tip:  Make sure you get all the keys to the mobile home and the shed from the seller.  One thing you might consider upon moving in is to replace the door locks. You just never know how many sets of keys were made and who might have one.
Conclusion
Congratulations, the most daunting part of buying a used mobile home is already behind you. Living in a used mobile home is a great way to save money. You won't give up still living in a comfortable and stylish house though. So, we hope that you enjoy your NEW used mobile home!