So your looking to buy a vintage mobile home.  Maybe you are looking for an older mobile home because you remember these beautiful units from your childhood. You could be looking for one of these units because it is one of the most affordable ways to live or it could be that you just want to impress your friends with a restored piece of history.  Whatever has brought you to this point in your life owning or restoring a vintage mobile home is a fun investment.
Remembering these beautiful Vintage Mobile Homes:
I remember when I was a youngster my parents had 2 vintage mobile homes near ponds on their property.  When we had family outings we used these vintage mobile homes for cooking and also for seating areas.  I can still remember the smell of the inside of the vintage mobile home and listening to my grandparents tell stories.
Surprising Facts about Vintage Mobile Homes
Mobile Homes actually got their start from wagons.  You could dig way back in history and discover that many wagons back in the day were actually homes on wheels "mobile".  These types of wagons dated all the way back to the early 1500's. 
Though out history people have discovered that a job wasn't always a few minutes away.  Many times you had to uproot your whole family to survive and usually that meant leaving your home, until the mobile home came along.  This offered a way for people to move around freely and to keep their home and security.  These wagons made it easy for families to travel with all of their belongings.
Pictured below is a 1913 Earl.   This wagon shows the resemblance to travel trailers and mobile homes.
There were so many manufacturers that tried their hand at building a wagon / mobile home.  They needed a wagon that you could travel with yet you could also live in, which was a challenge at times. Plus they didn't have big motorized vehicles to pull these wagons with.  Vehicles were invented however very few families could afford them.    
One or two horses typically pulled these wagons along.  And remember the roads then weren't nearly what they are today.  Imagine how many times these wagons were stuck. 
Pictured below is another attempt at making this combination work: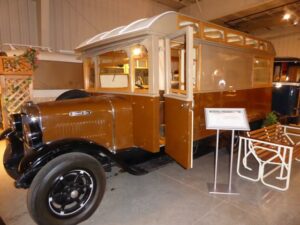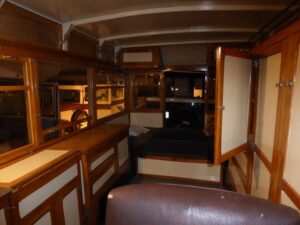 Where did it all start: Vintage Mobile Homes throughout the years
Mobile homes have been around for years.  Mobile homes got their start however from the ever popular travel trailer.  When travel trailers were made people quickly realized how nice it was to be able to be "mobile" with your home.  It didn't take long for engineers to figure out that you could make these homes longer and stronger then travel trailers and still transport them down the highways.
Pictured below is one of the first travel trailers on the market
These travel trailers were known both as mobile homes and travel trailers back in the day.
 You simply can't beat the affordability of a Vintage Mobile Home 
One of the biggest benefits to a mobile home was their affordability.  Compared to a stick built home you could and still can purchase mobile homes for a fraction of the cost of a regular stick built home.  Designing mobile homes gave everyone the opportunity at the American Dream of owning your own home. 
One of the biggest differences that truly separated mobile homes from travel trailers  was the fact that you could move a travel trailer with a car or truck.  Airstream travel trailers were one of the most popular travel trailers / vintage mobile homes around at the time.  They now are one of the most sought after restoration projects on the market. Its really no surprise as these are just beautiful when restored back to original condition. 
Fast forwarding to 1976: Vintage mobile homes separate from the crowd
It wasn't ,however, until 1976 that the US Congress passed the National Mobile Home Construction and Safety Act (42 U.S.C.).  This Act really let mobile homes gain the ground that they so deserved and this industry began to take off.  At this time in history the government made one slight change. They changed the name from mobile home to manufactured home. They originally thought that this added more of an elegant name to the once jaded industry.
Are these units safe to move?
Companies started to construct mobile homes of heavier material.  They were made bigger and stronger and because of this it made them more difficult to transport.   Heavy trucks were were designed to transport these mobile homes now known as toter trucks.
State and highway departments wanted to make sure there were regulations in place to haul these down the road.  They needed to  make sure manufactured homes were road worthy. 
Are Manufactured Homes Safe for Every State?
They also wanted construction laws in place for these homes so there were industry standards set. It was important to make sure that the construction of these homes was safe and that they were approved for different weather conditions: heavy snow vs. hurricane winds.  With these new regulations manufactured home builders started to build quality products that caused the manufactured home industry to explode in demand.
What do you love about the Vintage Mobile Homes?
Whether your love is with the units that started the whole mobile home / manufactured home craze in the 70's or you are looking for a mobile home that is a bit more vintage in the 50's or 60's these homes are an amazing piece of history.  The 50's and 60's units would actually be referred to as more a travel trailer.
If you take a 50's or 60's unit and compare it to a 70's mobile home you can see how the appearance really started to change and how these units started to separate themselves from the travel trailer industry.  Now looking at 2000 year units its amazing the changes that have effected this industry and the quality of some of these mobile homes.
 Purchasing a vintage mobile home and why its fun
Many people are purchasing vintage mobile homes, gutting them and updating them with restored vintage items.  You can restore these homes with updated wiring and drywall and then place vintage stoves, fridges and furniture in them.  For years people have simply wanted to restore the vintage air stream trailers but now these vintage mobile homes are really making their way into the public eyes.  Restoring one of these vintage mobile homes will be sure to be the talk of your friends and family. Whether you use them for a hunting camp, family get togethers or for extra sleeping space on your property they are amazing!
What I love most about Vintage Mobile Homes
The one thing that I love about restoring a vintage mobile home is that you can put money into it as you see fit.  It is not a project that you have to shell thousands into all at once.  You can put a few dollars or a few hundred dollars into it at a time and restore it a little bit at a time. When you have the project complete it is very satisfying to see the whole project complete. Whether it takes you one year or five years to complete the project take the first step and get started.  It's also a great project to start with your family.
Decorating your vintage mobile home with vintage items
If you are looking for vintage items to decorate your vintage mobile home whether it be curtains, décor or more check out these places or websites for some of the best items:
Goodwill store
Tip: visit www.shopgoodwill.com for some great vintage items
Check out garage or yard sales
Salvation Army
Antique Shops
I have personally purchased many antique items from all of these locations and each one has a treasure available.  Some you just have to dig for.
Restoring the outside of a vintage mobile home and how to do it right the first time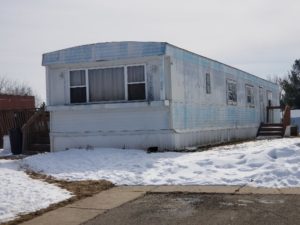 Restoring the outside of a vintage mobile home is easy as 1,2,3.  The metal on these vintage mobile homes in typically in great quality it just might need some sprucing up.
There are so many products on the market now that you can use to paint these units which is better than pulling the metal siding off and replacing it with vinyl siding if you are trying to keep that vintage look.
The metal product that was originally installed on these units is heavy quality and usually pretty weather resistance.  Instead of wasting the money to pull it all off and replace it look into painting the product.   Here are some suggestions to making your outside project last longer:
Its All About the Preparation
The preparation is really all its about.  You will want to power wash the outside of the mobile home.  Keep the nozzle of the power washer approx. 10 to 12 inches away from the metal.  You will want to get a power cleanser to clean the metal.  If there is mold I like to use bleach.  Do not use a no rinse cleaner because that will cause residue to stick to the metal siding.  Be sure to spray the cleaner or bleach fully off from the mobile home so there is no residue left.  If when the home dries you see a white residue take a brush with bristles and scrub the metal down.
Purchase some 5" foam mini rollers to roll the paint on to the home this will give you a great finish.  Many times mobile homes are too close in proximity to each other and you can't use spray guns because of this you don't want any overspray.
Don't forget to pick out a good color for your
Vintage Mobile Home 
If you are having a hard time deciding what color to paint your mobile home go down to your nearest hardware store and get some color swatches.  Then take them to the mobile home and tape them up.  Colors always seem lighter in the hardware store until you see them up on a home.  The last thing you want to do is buy 5 gallons of an exterior paint you aren't in love with.  Be sure to go with a higher quality paint rather than the cheap stuff.
You will be amazed at the difference of a good high quality paint.  It will last longer and go on better so you won't have to cover it with so many coats.  You only will want to do this job once so make it count!
In conclusion of your vintage mobile home
So If you are looking to buy a vintage mobile home or you have one now start doing little things to remodel the home over time you will be amazed what you end up with.  If you are looking to buy a vintage mobile home you can get great deals on EBAY or click here to browse our homes.  We update our inventory nearly each day.  Get started today on your vintage mobile home project.